Join our 2023 Embroidery Club once a month to explore many different embroidery machine techniques. There are many techniques and maybe some you have never tried. Go for it! Stretch your creativity and make it happen. We will be using wonderful designs and projects from OESD. Educator: Denise Shipley

Presented at two locations for your convenience! *Visit quiltershq.com to see the other available club meetings*

June 10th, 2023 from 10:00-12:30 at Windmill Sewing Center 7323 West 97 Street, Overland Park, KS 66212 913-322-6443




Class Dates
Class is held monthly on the 2nd Saturday of each month from
10:00 – 12:30 PM at Windmill Sewing Centers and 1:30-4:00 at Quilters HQ.
June 10 July 8 August 12
September 9 October 14 November 11 December 9
Cost: $25 per class or annual rate of $250 for 12 months
Register today!
Kits available for additional cost.
Supply list will be sent before class.

JUNE: Wedding Day Garden Flag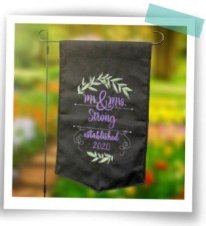 The bride and groom will always remember the beautiful day they were married with this special garden flag. With areas to drop in the last name and year they were married, it is easy to personalize a ready-made flag. OESD Garden Flags are two sided so another design can be easily embroidered on the opposite side, making it reversible. Learn how to change the shape from a rectangle to a triangular bottom edge with minimal sewing.
We can't wait to see what you can create! See you soon!



Future Projects...







JULY: If You Build It Tool Belt



AUGUST: Gnome Garden Marker



SEPTEMBER: Stand Tall Pillow



OCTOBER: Pocket Peekers Apron



NOVEMBER: Too Cool For School Backpack

DECEMBER: Sassy and Sweet Zipper Pouch